How To Earn Money From Snapchat 2021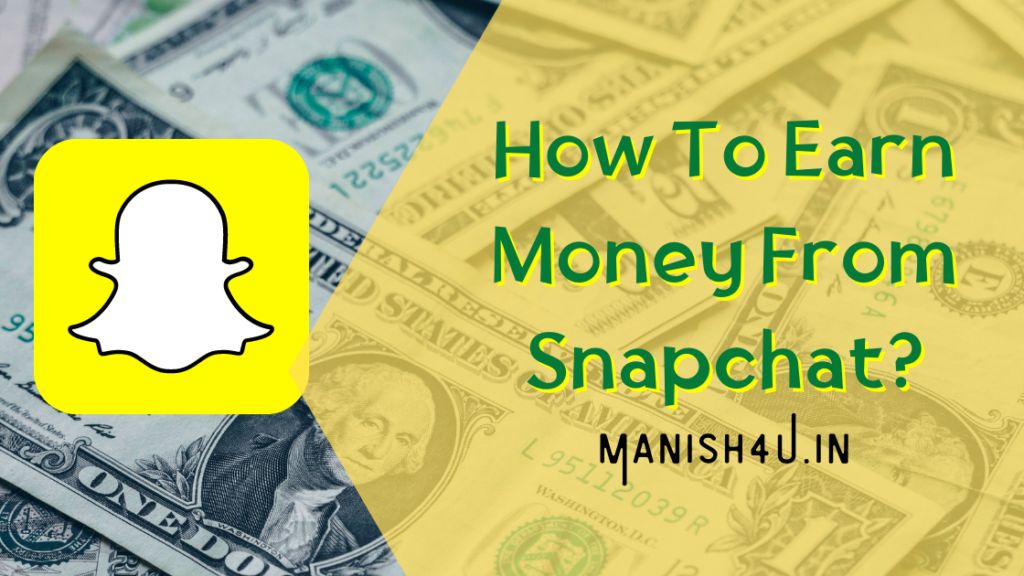 Snapchat is one of the most popular social media network/messaging app among youngsters. Snapchat has the largest demographic of the youngest users i.e from 18-24 users. Data shows that more than 90% of the total Snapchat users belong to the age group. This age group has a lot of potentials, during this age, people are more bound to show off things and so they do purchase a lot of things, Snapchat has huge advertising potential, as the users on Snapchat are more prone to buying things.
Snapchat is so popular nowadays that it even from time to time threatens other social media, mainly Facebook and Instagram with its new and innovative features. Many of Instagram's and Facebook's most popular features like stories and even the AR filters were stolen from Snapchat. These features came into existence for the first time on Snapchat and their popularity shot off the roof. The other most intriguing feature on Snapchat is the 'Streaks' which has a huge craze among youngsters since to them it means that the longer the snap streak continues, the stronger bond you share with the person.
Coming over to the Snapchat Influencer market, Snapchat is a huge player in this, many influencers mention their Snapchats in the bio since it is very popular. Snapchat also lets you mention links in your Snap Stories even when you are not a content creator which can be a huge plus point for a lot of people. Now, if you wish to earn money on any social media, the one primary prerequisite is having some sort of influence and popularity, and knowledge about the platform.
In this article, we will be telling you about the 5 best ways to earn money from Snapchat. We will tell you about how to grow a following and how to earn money easily, you just need to read the article till the end, which should be easy. So, without further ado, let's jump straight in!!
5 best ways to earn money from Snapchat
To earn money from Snapchat you should develop a great following and popularity. You can start by adding the people you know by syncing your contacts. One another good way is to add location-specific snaps that are interesting to the snap map, I personally get 10-15 connection requests from this technique every day. The third is to interact with your connections and followers, and the fourth is to drive people from your other social media to your Snapchat by saying things like you have unseen content there. The good part is, Snapchat does not take Obscenity that seriously, so you can pretty much do anything. Below are 5 ways on how to earn money from Snapchat:
1) Start Using Snapchat Spotlight
Snapchat Spotlight is the new addition to Snapchat's most innovative set of feature, but this time, the innovation is surely not their's, infact, Snapchat stole this short video platform idea from many other sites like Tiktok or Instagram reels. You can earn a lot from this since Snapchat is literally giving out cash to the top creators. Snapchat Claims to be paying out $1,000,000 to the creators every day. These payments are done on a popular basis.
2) Start Selling your own products :
Due to the young user demographic on Snapchat, it has a huge potential for youngsters. These youngsters love buying Fancy and quick items off the internet. You can make a good amount of profits by selling either handmade products or other products, whether self-shipped or drop-shipped.
3) Join Affiliate Programs :
You can join affiliate programs from different e-commerce websites and brands. These brands and sites will pay you for each sale that is made through your link. There is a good part to this. Snapchat lets all kinds of users to put links in their stories, so even if you are a small creator, you can make some money.
4) Take Sponsorships :
Brands over time have understood the power that influencers hold and the money they can make through promotions from influencers. If you have an influence, there is no way a brand will not approach you for promotions, These promotions can bring you in quite a lot of revenue.
5) Sell Snapchat Filters :
Brands promote their services and products through Snapchat filters. These filters are great to develop brand recognition, you can easily make filters through Canva and flip them for quite a lot of money.
Conclusion :
Snapchat has a huge earning potential, you can earn a huge amount of money if you have the right knowledge and skills. These steps will surely help you in making some money.
Thank you for reading this article, if you liked it, make sure you share this with everyone.