How To Earn Money From YouTube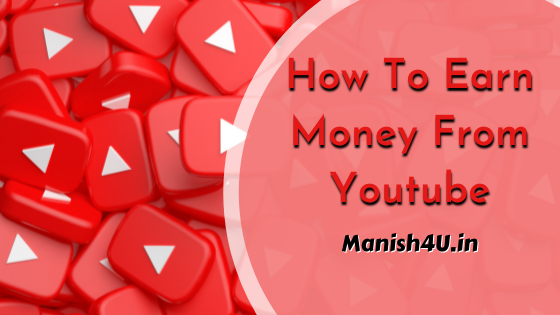 Youtube is the world's biggest video-sharing platform with over a billion registered users and even more unregistered users. Youtube was started in the year 2005 but it did not make a lot of profits but caught google's eyes and it acquired a platform and since then it transformed from being just a video sharing platform to a platform for content creators, filmmakers, influencers, politicians, Tv studios, News channels and literally anyone. Every popular video that surfaces on the internet are somewhat shared on Youtube as well. Youtube has grown to be a massive source of income for many people and people are known to make millions out of a single video too.
To earn money from Youtube, you need to produce some content that interests people, for getting an enormous number of views on Youtube, you should be backed by a huge social media following. Another way of getting a huge amount of views on your videos is finding a topic that is trending but no big channel has covered it yet. Well, once you start getting views, there are many ways you can earn from Youtube let us know all of them:
Also Read : How To Earn Money From Instagram
5 Best Ways To Earn Money From Youtube
There are many ways you can earn from Youtube but the only prerequisite here is that you need to have a good engagement and large viewer base on Youtube since all the methods of earning here are entirely based on the number of views and subscribers, some of these ways are: 
Youtube Channel Monetization
Youtube helps creators to monetize their videos by putting ads before and in-between of their videos with the help of Google's ad network called Google AdSense. Google AdSense does have terms and conditions for channels, the channels need to have a minimum of 1000 subscribers and should have generated at least 4000 hours of watch time in the last 12 months. The channel should also fulfill terms and conditions. The amount of revenue depends on your audience base, if your audience is from tier one countries like most of the American, European, and some Asian countries, your revenue will be a lot more.
Video sponsorships 
Video sponsorships are also a huge source of revenue for video creators, many companies related to your subject may contact you to promote their product or service on your video. These types of sponsorships are generally available for people who make dedicated videos on subjects or have a huge viewer base.
Affiliate programs
There are many YouTubers who share links to the gears and gadget they use in the video description, people who are generally interested in these products buy from the links and the creators are paid a fixed percentage of commission on each sale. Some brands may also approach Youtubers to promote a coupon code by their name and for every sale they make, the Youtuber will get the commission. These types of methods are popular among reviewers, tech content creators, photographers, and videographers.
Video ads
Many small and big creators who sometimes don't get approved for Youtube's ad program or are even approved introduce Video ads directly in their videos to generate income, this is also a great way to earn from Youtube.
Free Products
YouTubers get millions of free stuff from companies and brands for promotion and sometimes, out of pure goodwill, this way of advertising is very common among publishers. Tech YouTubers and reviewers receive the freest products, an estimate shows that free products worth 2-5 million are delivered every month to individual big creators.
Also Read : How To Make Money With Affiliate Marketing
Conclusion
Youtube is a great platform for video creators, with Youtube and good reach, you can make a huge fortune. Earning from Youtube is largely based on the content quality, research, and the amount of popularity that one creator has.
Well, this was all for our article, hope you liked the article, please make sure that you share it with everyone.