How To Earn Money From Instagram ?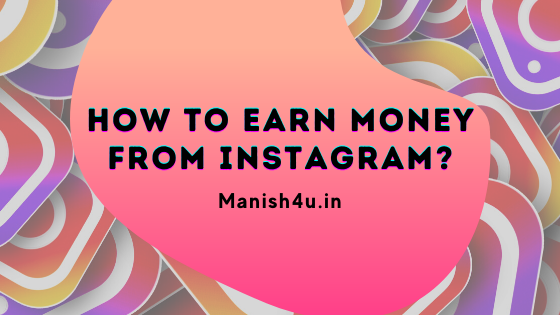 Launched in 2010, Instagram is one of the most popular social media platforms globally, with a user base of 1.8 Billion people (approx.). Social media has changed its purpose from what it previously used to be. In the initial stages of social media, people only used it to connect with their friends and make new friends. Still, with the advancement of time, Social media have developed to become a source of income, influencing entertainment, popularity, and fame for many people. More and more people are nowadays trying to earn money through various social media but are often unable to do so because of the lack of proper guidance.
To earn money from Instagram, you don't necessarily need to have thousands of followers. You just need to have the right idea about how things. To help you out, in this article, we have five ways to earn money from Instagram. So without any further delay, let's jump straight in!
5 Ways to earn money from Instagram
Earning money on Instagram is easy if you know how to do it. The prerequisite of this is to have a decent following on Instagram and having an excellent reach. Even when you don't have these, you can earn, but not much. Some best ways to make money from Instagram are: 
Instagram is the #1 place for social media influencers. The most popular influencers are there on Instagram and make a lot of money. Most of the money that influencers earn comes from sponsored posts and advertising deals. To become an influencer, you need to do what interests people. Creating good artistic content can help you achieve that. Instagram Reels, which is a newly introduced feature on Instagram, is currently the best way to become an influencer on Instagram. Influencers not only earn from sponsored posts and ad deals, but they also get a lot of free goodies from brands and stores. If you are a fashion influencer, you are more likely to be approached by Fashion brands, and if you are a food blogger, then you are more likely to be approached by restaurants.
There are countless small businesses on Instagram. With a small business, you can earn a lot. As a seller, you can sell pretty much everything at a large margin, as on Instagram, you won't get across clever buyers. The current most popular item categories on Instagram are Fashionable clothing, Gifts, Fancy mobile phone accessories, and back cases. As a business, you should be available with various delivery options, including Cash on delivery along with various payment methods. For goodwill, you should also incentivize your customers into giving public feedbacks and reviews.
Also Read : Use Instagram For Business
Affiliate programs are one of the best ways to earn money from Instagram if people have trust in you. Affiliate programs are offered by certain brands and e-commerce websites to promote the sale of particular products. A member of an affiliate program gets a fixed commission on each sale. This method of earning can be used by both Influencers and Individual users to make money.
Instagram is a great platform to showcase your portfolio if you are a Video editor, Graphics designer, Photographer, Videographer or photo editor. Many brands and individuals actively search for freelancers on Instagram. You can easily earn money if you have good skills.
Customized and handmade products have a massive market on Instagram is it is a platform for showcasing beautiful Images. People often look for excellent customized products on Instagram, and if you have something to offer them, then money is all yours. 
Also Read : How To Build Your First Online Asset
Conclusion
Instagram is a very popular platform for social media influencers and people who want to make money. The methods mentioned here are the best and most used methods to earn money on Instagram. To earn with most of these methods, you don't need to have a huge following but just a targeted following.