How To Earn Money From Telegram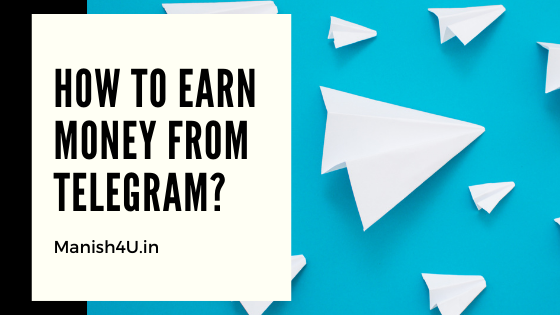 Telegram is the biggest messaging platform after Whatsapp, with 500 million actives users as of 2021, the platform is well known for its privacy-oriented features and zero limitations outlook. You can have as many members in a telegram group you want, there are Telegram channels with 10s of millions of people. Not only Telegram Channels, but Telegram groups are fairly popular too. Telegram groups offer similar features of unlimited members.
On the Telegram app, there is no size limit for sending images, videos, documents, apps, or any other files. In simple words, Telegram is just limitless. Well, Whatsapp is very limited when it comes to earning options, where Whatsapp is good for business users due to its massive user base, in no time, we will start seeing Telegram catching that up too. Telegram also is a more private messenger, unlike Whatsapp, it doesn't sell your data to advertisers or the parent company, Facebook.
Earning from Telegram is similar to what earning from most social media sites is, it needs you to have a good audience or people's support. In this article, we will tell you about 5 ways to earn money from Telegram.
5 Ways to earn money from Telegram
To earn money from Telegram, one of the best ways is to create a Telegram channel based on a certain topic or activity, here are some ways in which you can earn from Telegram:
1) Do Affiliate marketing
If you have a Telegram Channel, you can do affiliate marketing and it is one of the best ways to earn money from Telegram. You can tell people about steal deals and provide commission links to buy them which will earn you a nice amount of commission. This method will work with groups too, but in groups, the conversations flow two ways. You can also earn from referrals, new platforms pay for getting people to signup on them and start using them, these referrals yield a good income.
2) Charge a subscription fee
There is a saying from a movie, "If you are good at something, never do it for free." This saying applies on Telegram too, you can start providing tips, advice, or insights on the topics you have expertise on. One of such most popular channels is the one providing, CryptoCurrency trading advice, Stock Market trading advice, and Fantasy Cricket tips and advice.
3) Promote other channels
You can earn a lot of money by promoting other channels. For promoting other channels, you generally need to put up a nice and crafted message on the channel, which is provided by the person you're dealing with. If you have 100K subscribers on your channel, you can easily get INR 500-800 per message.
4) Collect Donations
If you are providing value to your subscribers or group members, they will be more than happy to help you with money. You can ask for donations by also saying that you don't want to ruin the user experience by introducing ads or doing paid promotions. People should be true admirers of your work, donations are most effective only when you provide services.
5) Sell Products and services
Selling products and services is a great way of earning on Telegram. You should know, that no one will buy traditional products from Telegram, these products that you are going to sell on Telegram should be fancy and unique. Some popular categories of products are Jewellery, Accessories, Gadgets, Mobile Phone Accessories, Clothing, etc. You can also sell various services like OTT subscriptions, Content writing, and Web development.
Also Read : How To Earn Money From YouTube
TL;DR
Telegram is one of the most popular messaging apps with a user base of more than 500 million people, the platform is second most popular to Whatsapp. Earning on Telegram is an easy and proven way, the 5 most popular ways to make money from Telegram are: 
Affiliate Marketing

Charging  Subscription

Promoting Other channels

Collecting Donations

Selling products and services.
Also Read : How To Earn Money From Instagram